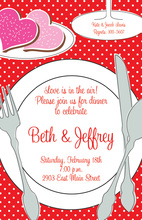 Valentines Placesetting Invitation
As low as $0.50

Valentine Party Invitations
Love is definitely in the air with our Valentines party invitations. On this wonderfully special occasion, how about a card with a heart-shaped die-cut topper in pink and red color? This would be a perfect choice for bridal and valentines party invitations. Or simple yet pretty flat cards, cards with valentine theme borders? Invite your sweetheart to a dinner party or dance, or celebrate her birthday with these beautiful cards.
While it only comes once a year, it can be a special day for couples and for parties. Pick the right invitations for your Valentine's Day party and you'll add heat to your party. A fun couple's party starts with whimsical Valentine's Day invitations. Don't fret if you're single on Valentine's Day. Invite your single friends over for a non-Valentines' day party with tongue-in-cheek Valentine's Day invitations.
If you're not hosting a Valentine's Day party, but just having a couple's party, some of these adorable red and pink invitations would be perfect for your next get together.
Tying the knot on Valentines' day? Choose a cute cupid or red-hot heart to adorn your wedding invitations or announcements. Even if you're not planning a Valentine's wedding these invitations would work perfectly for wedding announcements and engagement announcements and rehearsal dinner invitations.
Celebrate love any day - not just Valentine's Day - with these cute valentine's-themed invitations.