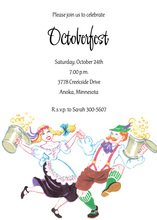 Dancing Steins Invitations
As low as $0.50

St. Patrick Invitations
St. Patrick's Day is celebrated on March 17, his religious feast day plus the anniversary of his death within the fifth century. The Irish have observed this day as a religious holiday for more than a thousand years. On St. Patrick's Day, which falls for the duration of the Christian season of Lent, Irish households would traditionally attend church within the morning and celebrate within the afternoon. Lenten prohibitions against the consumption of meat had been waived and men and women would dance, drink and feast-on the standard meal of Irish bacon and cabbage.

The very first St. Patrick's Day parade took spot not in Ireland but inside the United States. Irish soldiers serving inside the English military marched by means of New York City on March 17, 1762. Together with their music, the parade helped the soldiers reconnect with their Irish roots, at the same time as fellow Irishmen serving inside the English army.

Celebrate the Luck o' the Irish! Everybody can celebrate the luck o' the Irish with these delightful St. Patrick's Day Invitations in shades of green, white, and orange. Every styles attributes irish iconic symbols. It is a little o' the Irish. Traditions, customs and history of St. Patrick's Day have to be celebrated using the lads and lasses! Come across the ideal St. Patricks Day Invitations that fits your style and them. Make your party a lot more entertaining by playing songs of Ireland and decorate with leprechauns, Irish Flags, shamrocks and obviously the green beer! With our rapid schedule, you might have your St. Patricks Day Party Invitations printed in no time!