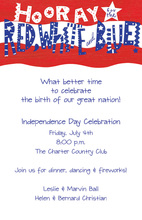 Holiday Patriotic Red White Blue Invitation
As low as $0.50

Patriotic Party Invitations
There is no more patriotic day than the 4th of July and no better reason to celebrate than the blue skies and warm evenings. Get your stars and stripes party off to a great start with these patriotic invitations.
Celebrating the 4th of July with a great picnic and a brilliant fireworks display is a great way to spend the day. Start the celebration off with fun picnic party invitations. Bright American flag invitations will get your guests in the mood for a great 4th of July celebration. Pick fireworks and sparklers for shine and flash on your party invitations.
If you're graduating in the summer, consider patriotic-theme for your graduation invitations. Graduation party invitations in red, white and blue will add style and a subtle patriotic theme. Combining your graduation party invitations and 4th of July party invitation is a great way to invite your guests to a fun and cheerful party.
Born on the 4th of July or know someone who is? Patriotic birthday invitations are a perfect accent for your July birthday. Not everyone gets to have sparklers and fireworks on their birthday.
You might even consider a flag theme or patriotic theme for your July wedding invitations. July is a wonderful time of year for a wedding and these patriotic invitations make fun wedding invitations and wedding announcements.
Whatever the occasion or date, pick patriotic party invitations and you'll be celebrating in style.