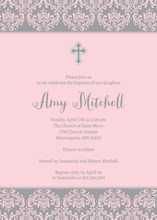 Pink Damask Religious Invitations
As low as $0.50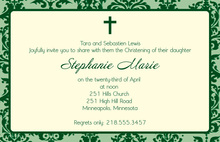 Trendy Damask Baptism Green Invitations
As low as $0.50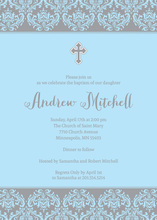 Blue Damask Religious Invitations
As low as $0.50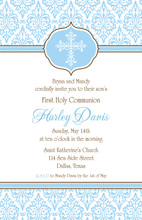 Fancy Blue Cross Invitation
As low as $0.50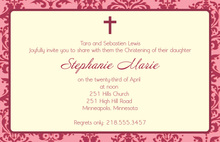 Modern Damask Baptism Pink Invitations
As low as $0.50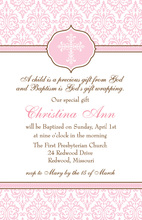 Fancy Pink Cross Invitation
As low as $0.50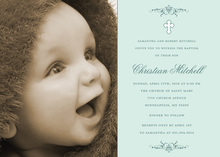 Classic Vines Photo Cards
As low as $0.50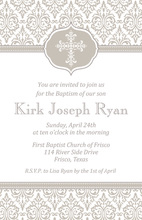 Fancy Taupe Cross Invitation
As low as $0.50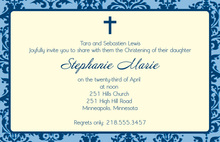 Stylish Damask Baptism Blue Invitations
As low as $0.50

Baptism Invitations
Family, close friends and members of the church special to your family should be formally invited to the baptism. This is a time to celebrate, whether it's the joy over a new baby or the celebration of an older person's acceptance of Jesus Christ.

By creating the meaningful baptism invitations, you will be blessed with a lovely keepsake to frame and cherish for years to come. Save two or three copies of the baptism invitation, order of service program, thank you card and envelopes for your photo album or scrapbook. You might even have them arranged and mounted together in a decorative frame. Have your child's christening gown or outfit professionally dry-cleaned and sealed in a garment box or container to preserve it for years to come.

This is a truly special event and is often commemorated with a celebration following the baptism ceremony. The reception could be an informal or formal luncheon or just a gathering with heavy hors d'oeuvres for family and friends. Either way, these details must be included on the invitation in addition to the ceremony details.

Even if you decide not to host a gathering after the ceremony, you still need to send baptism invitations if you want people other than the congregation to attend. Invitations popular today are photo baptism invitations that can also double as birth announcements if you prefer to send them together. In this case, it is especially relevant to use a photo baptism invitations since this might be many people's first time seeing your baby.

Instead of the typical baptism invitation wording, remember the event and begin with a Bible verse or a baptism-related poem to set the tone. Color is also important, although you aren't restricted to white and pink or white and blue, depending on the baby's gender. Rich colors like gold, red, navy, and hunter green are prevalent on baptism invitations. If you are using a photo, dress your baby either in white or a coordinating color to match the invitation.

However you invite guests to this memorable occasion, remember that the purpose is to welcome that child or adult into the Christian family. Sending unique, meaningful baptism invitations will show guests how special that day is in your child's spiritual life.